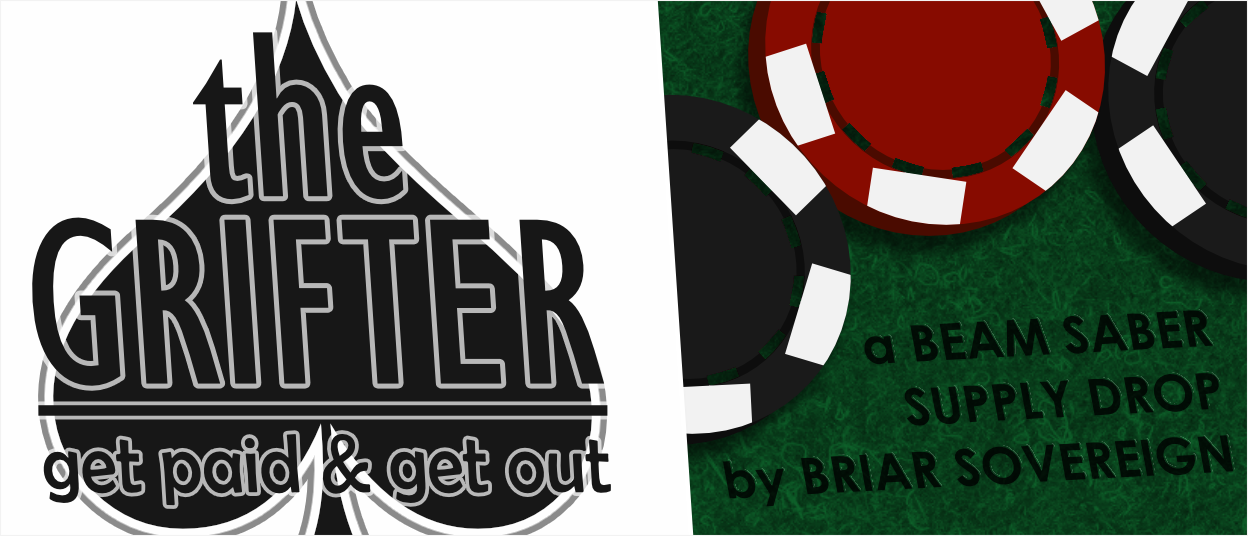 The Grifter
There are lots of people involved in a war. Soldiers, fighting for a cause, or their lives. Medics, tending to the wounded, whether they'll make it home or not. Quartermasters, making sure everyone has the gear they need and the comforts they miss. As far as you're concerned, though, you're a wolf among sheep:

AND YOU'RE HERE TO FLEECE EVERY SINGLE ONE.
The Grifter is a playbook for Beam Saber by Austin Ramsay, designed for playing rat bastards, scoundrels, ne'er-do-wells and all kinds of other people you wouldn't work with unless you had to: or unless they'd already earned your trust. Grifters manipulate and exploit their foes, their friends, and the broader Factions to build up the leverage needed to deploy a diverse set of abilities for any opportunity. And who knows: maybe if this whole thing pans out, you'll pull off a job they'll talk about forever.
Inspired by the Quartermaster from Small Planet Games's Rearguard supplement and utilising its leverage progression mechanic.

This playbook features:
15 special abilities bought and sold with leverage

12 pieces of specialist pilot and vehicle gear

several pieces of expert graphic design

a short discussion on the ethics of playing a character who is awful
the map to a secure cache just outside of town, ready for the taking. a dozen supply's points worth of goods, unprotected. would I lie to you? you can trust me on this, ask anyone
This is a Beam Saber Supply Drop - an unofficial supplement not affiliated with Austin Ramsay - but the stuff on the black market? It's as good as the real thing, you can take my word for it.

"I'm evil now" - Briar Sovereign
"Still like, very proud of this." - Briar Sovereign
"Honestly.... a lot of my best work" - Briar Sovereign
"Please leave a rating, uwu" - Briar Sovereign

Purchase
In order to download this playbook you must purchase it at or above the minimum price of $3 USD. You will get access to the following files:
Community Copies
Support this playbook at or above a special price point to receive something exclusive.
Community Copies
If you don't have the budget to purchase this product, for whatever reason, feel free to claim a community copy - no judgement. New copies are added monthly and paid for by purchasers.