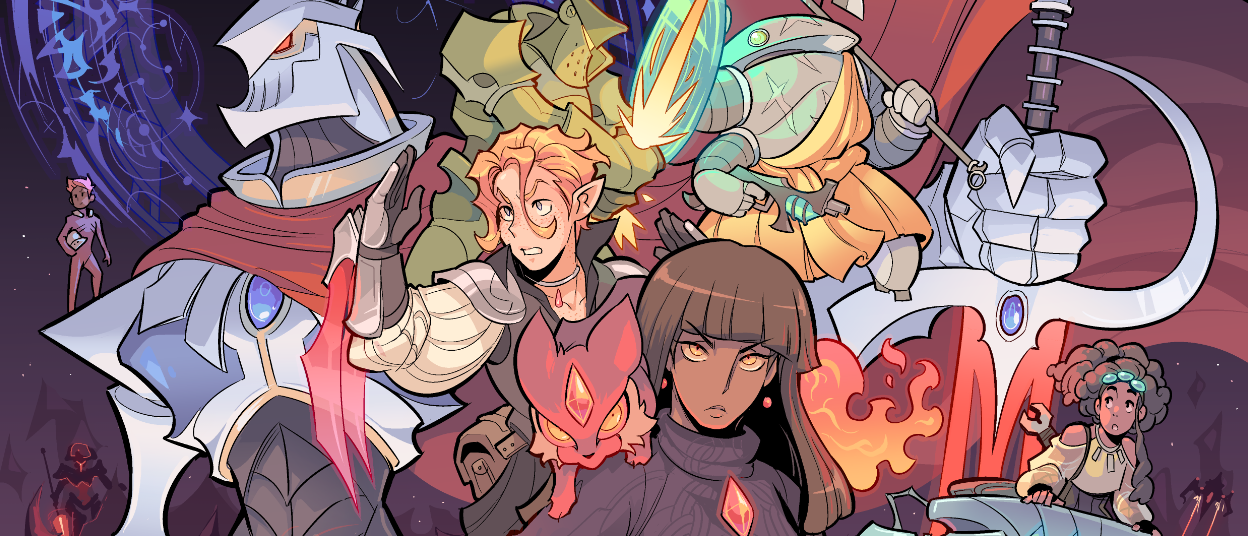 Armour Astir: Advent
Armour Astir: Advent is a high-fantasy roleplaying game about striking back against an authority that seeks to control you.
It is a game of rival pilots clashing in steel-clad Astirs, of soldiers holding their own against the odds, and of spies and diplomats twisting the world to their ends. It is not a game of careful preparation or pleasant truces;
It's hard to change the world without taking a risk.
Armour Astir: Advent is a PBTA game where the players use their wits, expertise, and their huge enchanted suits of armour to fight against an oppressive regime. As in in-development project, the playtest version of Armour Astir: Advent is available for free! If you just want to try out the game, you don't need to pay a penny: a free version of the rules without the art is included with the playbooks below.

Featuring;

Four 'Channeler' playbooks - magical mecha pilots who stride into battle in a custom Astir
Four 'Support' playbooks - the engineers, spies and diplomats whose skills lie off the battlefield
Customised Astirs - players may pick from examples, or design their own mech as part of character creation
Health/Harmless combat - players must force their opponents into a corner by making them take risks or putting them in peril
Simple Factions & Conflict Turn - The Authority makes claims and gains hold on Factions who must block their efforts
Armour Astir: Artifice - a microgame about creating an Astir for three players, originally created for #WizJam2k19
If you have feedback, concerns or criticism, feel free to contact me at weregazelle@gmail.com with the subject 'Playtest Feedback (Armour Astir)'.

Please remember to rate the game if you enjoy it!
Purchase
In order to download this game you must purchase it at or above the minimum price of $15 USD. You will get access to the following files:
Armour Astir: Advent
51 MB
Community Copies
Support this game at or above a special price point to receive something exclusive.
Community Copies
If you don't have the budget to purchase the game at full price, for whatever reason, feel free to claim a community copy - no judgement. New copies are added monthly and paid for by purchasers.

Download demo
Comments
Log in with itch.io to leave a comment.
this game looks extremely good and im super excited to play it!!!
I have a question regarding Reserve. The section on creating your own Astir says that certain parts and weapons cost Reserve in order to be chosen. How does one determine how much reserve a given player has to begin with? Is it equivalent to Supply, or something else?

I'm liking what I've already read and am looking forward to playing this game. Thanks for making it!
hey! the mentions of reserve are a holdover from an earlier system. astir parts take up mana now, not reserve! this language will be cleared up in a future update.

I haven't read that much of the PDF yet, but I just wanted to say that this line under Read the Room: "On a failure, you may ask one of the above questions immediately, but the answer creates a problem or puts you in danger" made me go "Yes!"
I hate coming up with 6- results for "investigation" type moves. I think this will make it much easier!

thankyou! I like to leave 6- open to hard moves most of the time, but sometimes when the opportunity presents itself for something specific I can't resist...