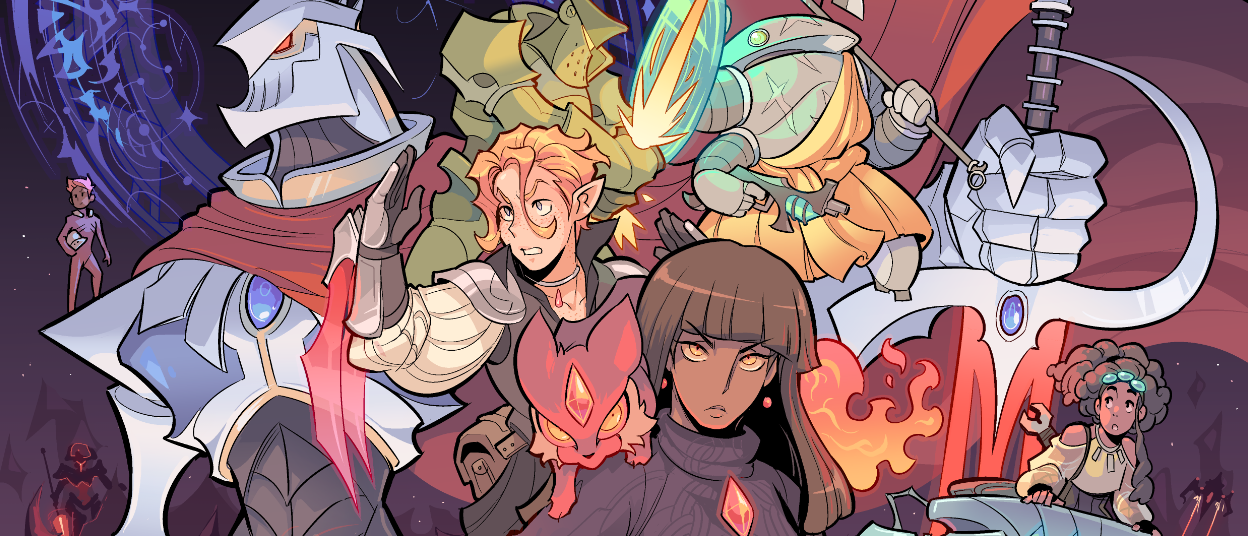 Armour Astir: Advent
Armour Astir: Advent is a high-fantasy roleplaying game about striking back against an authority that seeks to control you.
It is a game of rival pilots clashing in steel-clad Astirs, of soldiers holding their own against the odds, and of spies and diplomats twisting the world to their ends. It is not a game of careful preparation or pleasant truces;
It's hard to change the world without taking a risk.
Armour Astir: Advent is a PBTA game where the players use their wits, expertise, and their huge magical mechs to fight back against an oppressive power. A love letter to mecha anime and fantasy fiction broadly, Armour Astir is designed to evoke the feel and pace of shows like Mobile Suit Gundam and Escaflowne in an accessible, narrative-focused format: without skimping out when it comes to the exciting action.

The basic version of Armour Astir: Advent is available for free! If you just want to try out the game, you don't need to pay a penny: a free version of the rules without the art is included alongside the play materials.

Featuring;

Four 'Channeler' playbooks - magical mecha pilots who stride into battle in a custom Astir
Four 'Support' playbooks - the engineers, spies and diplomats whose skills lie off the battlefield
Customised Astirs - players may pick from examples, or design their own mech as part of character creation
Health/Harmless combat - players must force their opponents into a corner by making them take risks or putting them in peril
Simple Factions & Conflict Turn - The Authority makes claims and gains hold on Factions who must block their efforts
Armour Astir: Artifice - a microgame about creating an Astir for three players, originally created for #WizJam2k19
If you have feedback, concerns or criticism, feel free to contact me at weregazelle@gmail.com with the subject 'Feedback (Armour Astir)'.

Please remember to rate the game if you enjoy it! Every rating means a lot ♥

Purchase
In order to download this grimoire you must purchase it at or above the minimum price of $15 USD. You will get access to the following files:
Armour Astir: Advent
80 MB
Community Copies
Support this grimoire at or above a special price point to receive something exclusive.
Community Copies
If you don't have the budget to purchase the game at full price, for whatever reason, feel free to claim a community copy - no judgement. New copies are added monthly and paid for by purchasers.

Download demo